The holidays are right around the corner, and the pressure to plan the perfect end-of-year office party is officially on. Whether your organization is large or small, a successful holiday party should show appreciation for employees and celebrate the year's success. However, planning such an important occasion doesn't have to be stressful! If you're starting to worry about organizing your company's bash, don't fret. We have created this corporate holiday planning checklist just for you! 
If you're searching for the perfect venue to host your corporate holiday party, look no further than the St. James Hotel. Our historic Red Wing, MN, hotel offers diverse and distinctive event spaces of all sizes – for any occasion. Our knowledgeable event coordinators would love to help you create a memorable gathering! Request our complimentary Meeting Guide today and see what the St. James experience is all about!
Your Corporate Holiday Planning Guide
1. Select a Date and Time
Choosing a date and time should be the first thing on your corporate holiday planning checklist. Many venues will book quickly during the holiday season, so you'll want to reserve your date before someone else does! Also, it's important to decide whether it is a daytime or evening event. Will it be a luncheon? Perhaps you're envisioning a formal evening soiree. No matter what you decide, reserving your date and time should be at the top of your to-do list!
2. Create Your Guest List
Next, you'll want to organize your guest list. Will this be a party for employees, colleagues, or everyone? Will significant others be invited to attend as well? In order to decide on an event space, it's a good idea to estimate how many guests are invited. 
3. Choose a Venue
Once you have a date, time, and guest list, it's time to book your venue! The right event space can make or break your party, so choose wisely. Can the venue accommodate the size of your group? What amenities and services are offered? Do they offer catering? These are all important factors to keep in mind.
4. Choose a Theme
Whether you're planning a Thanksgiving feast, a Christmas gala, or end-of-year awards ceremony, your event coordinator can bring your holiday planning ideas to reality. From decor to cuisine to entertainment and more, consulting with a professional can be a huge help when it's time to bring your party's theme to life. 
5. Make a Timeline
To ensure that your party runs smoothly, we recommend creating an event timeline beforehand. Your event coordinator and caterer will also be able to help with this. Create a list and write down what time guests will arrive, when food and beverage services will begin, and what time speakers or entertainment will take the stage. That way, everyone is on the same page. 
6. Send Invitations
Once you have all the details planned, it's time to get those invitations out! The sooner you can do this, the better. Design a flyer or a holiday-themed email to get the word out quickly. Or, put personalized invitations in everyone's mailbox at the office. Make sure to include details such as date, time, dress code, and instructions to RSVP if applicable.
7. Have Fun!
Of course, this is the most important step on your corporate holiday party checklist! Now that the planning is done and the invites are sent, it's time to unwind and enjoy yourself! Let the event staff take care of all the details and have fun celebrating with all your colleagues. 
Plan Your Corporate Holiday Party at the St. James Hotel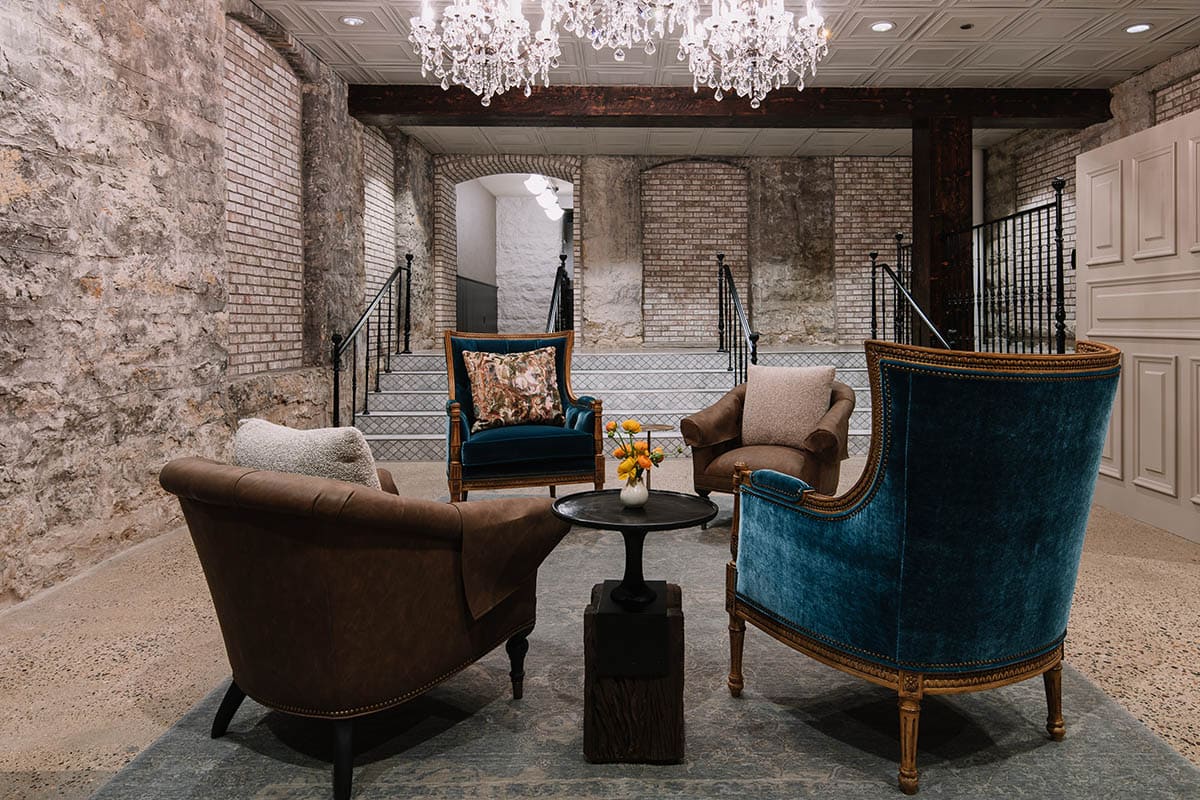 Now that you're ready to start party-planning like a pro, we invite you to host your next event at the St. James Hotel. Our luxury Red Wing, MN, hotel offers a beautiful setting amongst the Mississippi River and majestic bluffs. 
Each of our 9 diverse meeting spaces offers exceptional amenities and luxurious service. Whether you have a group of 2 or 240, we can accommodate a wide range of group sizes. We also provide an extensive selection of food and beverage services, and we're happy to coordinate the catering details with you. Request our complimentary Meeting Guide for more details, and contact us today to start planning your holiday office party. We look forward to seeing you soon!